SERVICES
Management Consultancy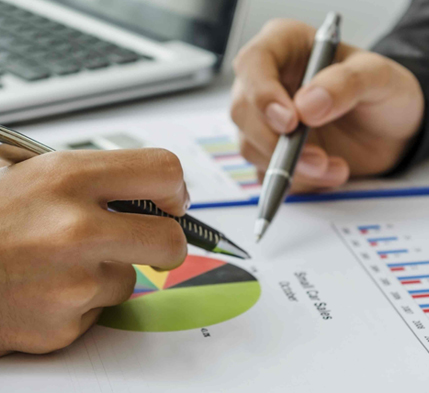 Management Advisory Services
Mohsin& Co helps businesses and organizations of all kinds negotiate risk, improve their performances and realize their potential within the unique and dynamic environments in which they do business. Specialists nationwide come together to deliver these services under the following categories:
System review for internal control evaluation and preparation
Budgeting, Costing System development and implementation
Accounting Software Sales, Installation and Training
Financial Arrangements with banks for new loans
Feasibility studies for new operations/expansion and for banks
Operational and Profitability Improvement Consulting
Corporate finance
Corporate governance and risk management
IFRS reporting
Government and not-for-profit
Business Process and Internal Control Review
A Business Process is a collection of linked tasks which find their end in the delivery of a service or product to a client. A business process has also been defined as a set of activities and tasks that, once completed, will accomplish an organizational goal.
Internal control is broadly defined as a process, affected by an entity's board of trustees, management, and other personnel, designed to provide reasonable assurance regarding the achievement of objectives in the following categories: Effectiveness and efficiency of operations. Reliability of financial reporting.
Business Plans & Feasibility Studies for New Projects and Expansions
A Business Plan is a written document that describes in detail how a new business is going to achieve its goals. A business plan will lay out a written plan from a marketing, financial and operational viewpoint. Sometimes a business plan is prepared for an established business that is moving in a new direction.
Feasibility Study is a measure of how well a proposed system solves the problems, and takes advantage of the opportunities identified during scope definition and how it satisfies the requirements identified in the requirements analysis phase of system development.
Management and Corporate Consultancy
Management consultancy is the practice of creating value for organizations, through improved performance, achieved by providing objective advice and implementing business solutions. In other words, management consultants help takes organizations further than they would go on their own.
Corporate consultancy is a professional service designed to assist businesses in developing or achieving goals that lead to success. Corporate consultants offer a wide range of services that include evaluating an existing process or structure, fine tuning some or many aspects of the company's operation, and offering practical training to key people within the corporate structure. Corporate consulting can be focused on specific areas of a business or address the overall function of the company.
One of the more common examples of corporate consulting has to do with developing the skill sets of a management team. Within this application, corporate consultants assist officers of a corporation to understand their roles within the structure of the business in more detail, and offer practical advice on how to maximize their effectiveness for the good of the company as well as to the benefit of the individual. The main goal of this type of corporate consulting is to make sure that the talents and abilities currently present among members of management are utilized to best advantage in the task of achieving company goals.
Budgeting and Costing System development and implementation
A budgeting is a quantitative expression of a plan for a defined period of time. It may include planned sales volumes and revenues, resource quantities, costs and expenses, assets, liabilities and cash flows.
A Costing is a managerial accounting method that describes when all fixed and variable costs, including manufacturing costs, are used to compute the total cost per unit. Full costing includes these costs when computing the amount of money it takes to produce and distribute one unit of output.
System development and implementation is the process of defining, designing, testing, and implementing a new software application or program. It could include the internal development of customized systems, the creation of database systems, or the acquisition of third party developed software.
International and local Taxation
International Taxation is the study and practice that centers on the application of taxes and tax law in the international community as it relates to individuals, businesses and government agencies conducting cross-border commerce. The myriad of tax treaties, territorial tax laws and their effect on extraterritorial income requires the interpretive expertise of scholars and practitioners who specialize in international taxation.
Local Taxation is the study of the tax assessed and levied by a local authority such as a county or municipality. A local tax is usually collected in the form of property taxes, and is used to fund a wide range of civic services from garbage collection to sewer maintenance. The amount of local taxes may vary widely from one jurisdiction to the next.