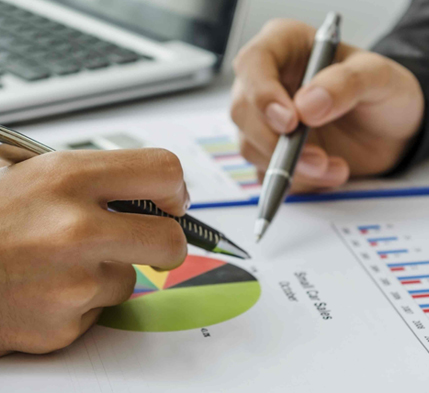 Audit & Assurance
An audit is more than a formality; it is a necessity to protect your business and encourage it to thrive. Early warnings, open communication and pragmatic resolution of issues are the essential features of the approach adopted by Mohsin& Co.
By taking the time to gain a thorough understanding of our clients' businesses and by providing a risk-focused services integrating rigorous risk assessment with diagnostic processes and audit testing procedures tailored to the specific audit, our firmmaintains excellent relationships with our clients. This quality-led approach means members provide an intelligent, constructive and challenging audit to every one of our clients.
We believe the statutory audit should be viewed as an opportunity, not an overhead.
By keeping you up-to-date with relevant financial reporting and related legislative and technical changes throughout the annual cycle, as well as providing appropriate insights into maximizing the potential of your business, we believe that our members' processes can actually serve to enhance the operation of your business.
Through robust audit tools, resources and procedures, our firm deliver high quality audit services, adhering to the highest standards of independence, ethics, professional objectivity while applying technical excellence. As part of our strategy of continuous audit quality improvement, service performance and delivery to clients is continuously assessed through the International Quality Assurance Programme.
As well as financial audit services, Mohsin& Co provides a range of additional assurance services including information systems and controls assurance and forensic audit and investigation.
Statutory Audit
Cost Audits
Operational and systems Audits
ERP Audits
Internal Audit
Statutory Audit
Financial statement audit
Corporate reporting
IFRS reporting
Regulatory compliance
Capital markets
Corporate treasury solutions
Accounting advisory
Risk assurance
IT risk assurance
Actuarial insurance